Every compelling brand story starts with a struggle and often ends in triumph. Usually, the story follows a simple arc, connecting a product or service to the people who need it most. These tales are straightforward, showing what's possible.
An outstanding brand story offers a solution so appealing to its target audience that they'll imagine their own obstacles just to get the remedy they didn't even know they lacked. These stories are designed to convey a multi-faceted vision; they frequently provide a reason to believe and evoke emotion.
When CORT Events created a new brand video in 2023, we aimed higher, wanting to launch a story with grand ambitions. But if a great brand story has clients craving a solution without even realizing their problem to begin with, what client behavior can an epic brand story elicit?
Go behind-the-scenes and learn how CORT Events developed and executed their 2023 'Blank Slate' video, intended to transform, engage, and inspire how tradeshow and event professionals think about furnishing and event design.
Early Concepting
The CORT Events brand video concept began several years ago with the goal of reimagining how to showcase our wide range of furniture, decor, and design services across the country. The marketing team aimed to demonstrate that CORT Events can exceed attendees' expectations and define our message of 'more than' in short 15, 30 or 60 second video clips.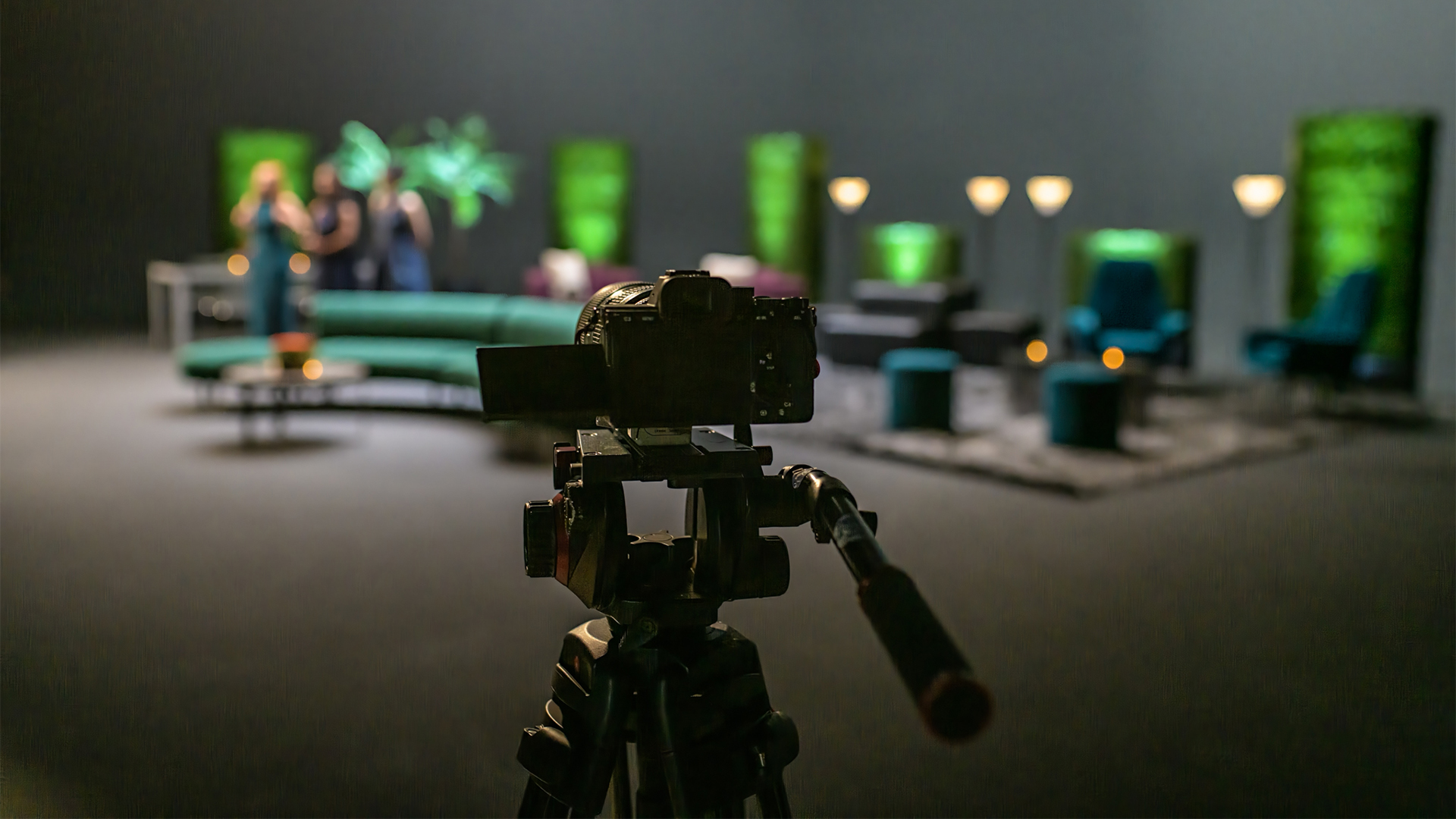 Within this short timeframe, the team hoped to highlight:
CORT Events' current, trendy collections of furniture and decor for events and trade shows.
The level of attentive, white-glove-style services CORT Events offers to virtually any venue nationwide.
The consultative approach each trade show and event customers receive from our national sales team, including easy-to-use 2D and 3D digital design services.
While the above attributes contribute to CORT Events being a best-in-class furniture rental company addressing the 'who,' 'what,' 'when' and 'where' of our brand story, the team wanted to further deliver answers to the key questions of 'how' and most importantly, 'why' CORT Events provide experiences the way we do.
As planning progressed, the team kept returning to the concept of a "blank slate" - both as a metaphor and a physical space. An intentional starting point and a vision of an elaborate display inspiring users to imagine their own unique layouts.
Transform
Walking onto the 9,400 sq. ft. cyclic film stage set, our team immediately felt a profound sense of vastness. The team was struck by the sheer size and continual feeling of it. The immense white space was our, blank slate, brought to life. Along with the large staging area adjacent to the stage that would enable quick load in and load out, ideal for our operations team, this was the space.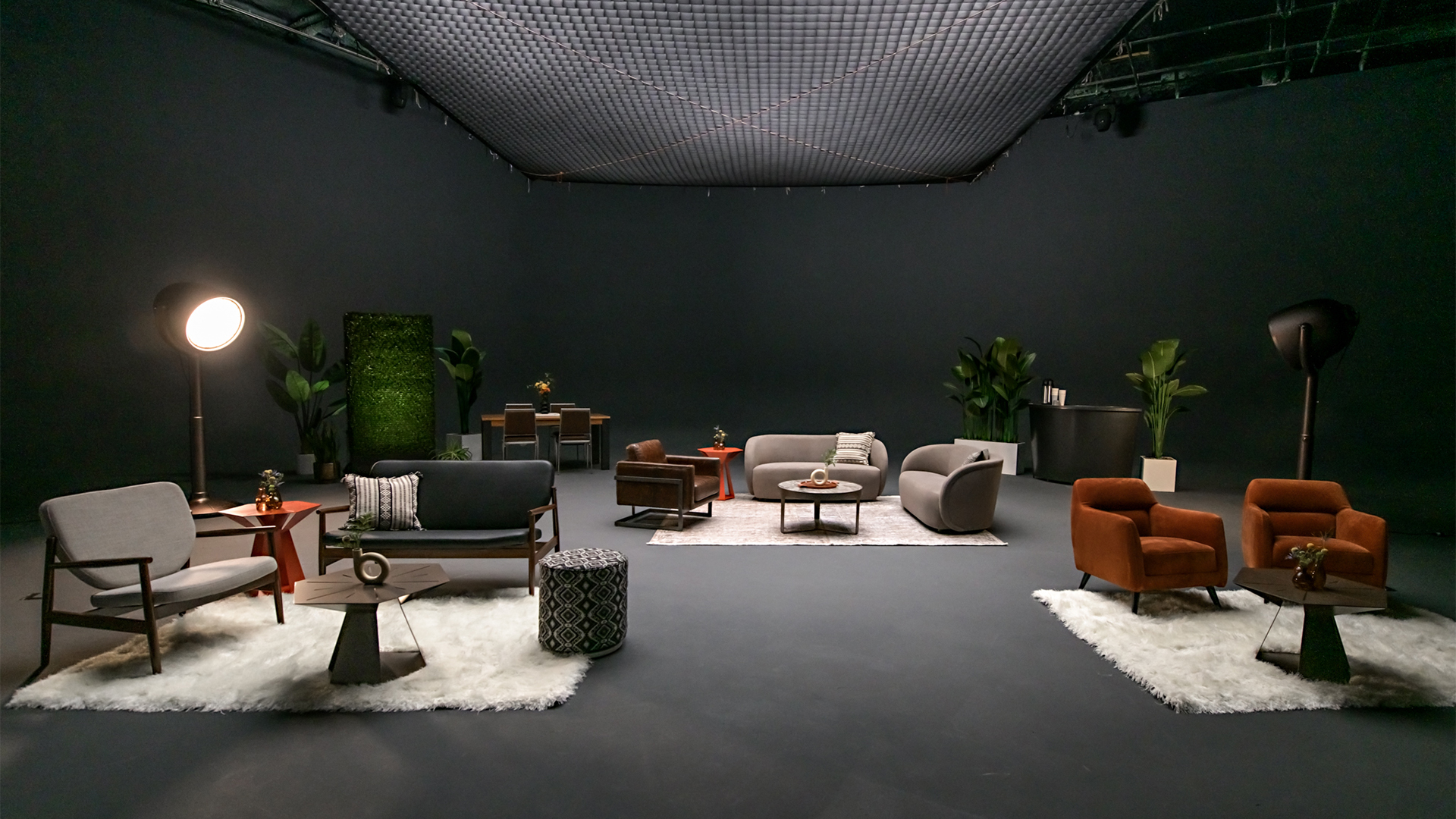 Engage
Because CORT Events services nearly every type of meeting and event, the brand video had to be inclusive of this. Putting the marketing team, once again, in the position of creating vignettes that showcased how the brand new 2023 product could be used. An added challenge to this was designing each of these scenarios specific to a film vantage point, with specific camera angles to capture movement and a focused frame.
Designing with intent is integral to CORT Events' approach to any of our clients and conveying this in our revamped brand story video was of utmost importance. With each scene, the team went in-depth with the details and asked themselves questions like, "where would it make the most sense to place a luxurious emerald green, channel stitched, Endless sofa to be the focal point of the glamorous gala scene? Will the bespoke, neutral, pebbled texturing of the brand-new Danish Modern-inspired Aspen Chair be better suited to the foreground of a corporate prefunction gathering scene?"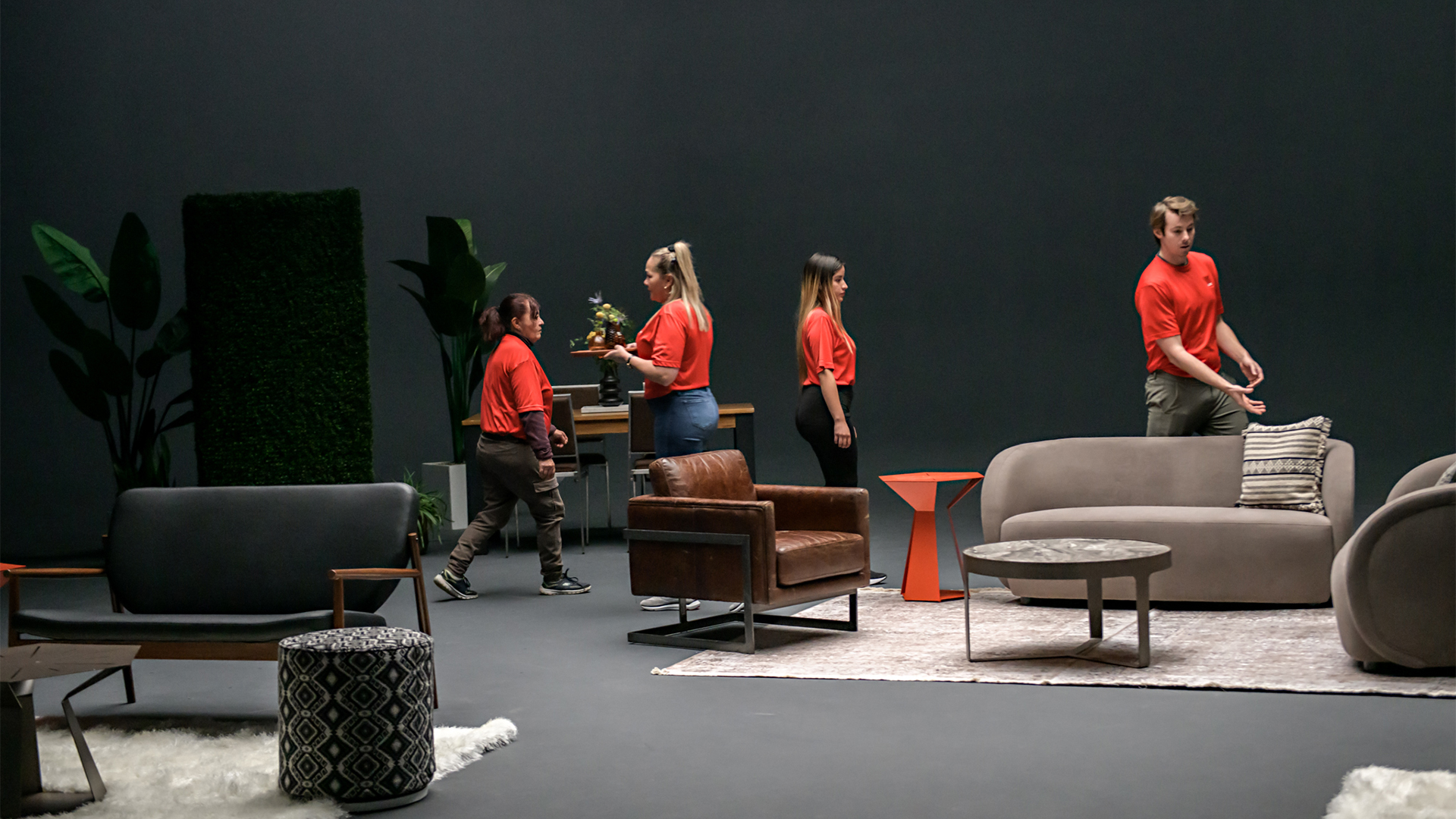 Inspire
At the forefront of their minds and within these granular details, two of the most critical pieces that the team worked to infuse into the brand video were humanity and great storytelling as way to amplify how a piece of furniture becomes an essential and fundamental part of an environment.
By incorporating small, everyday objects, as props the scenes were set to create a realistic ambiance of a sports celebration, a gala cocktail hour, or a coffee bar at a conference.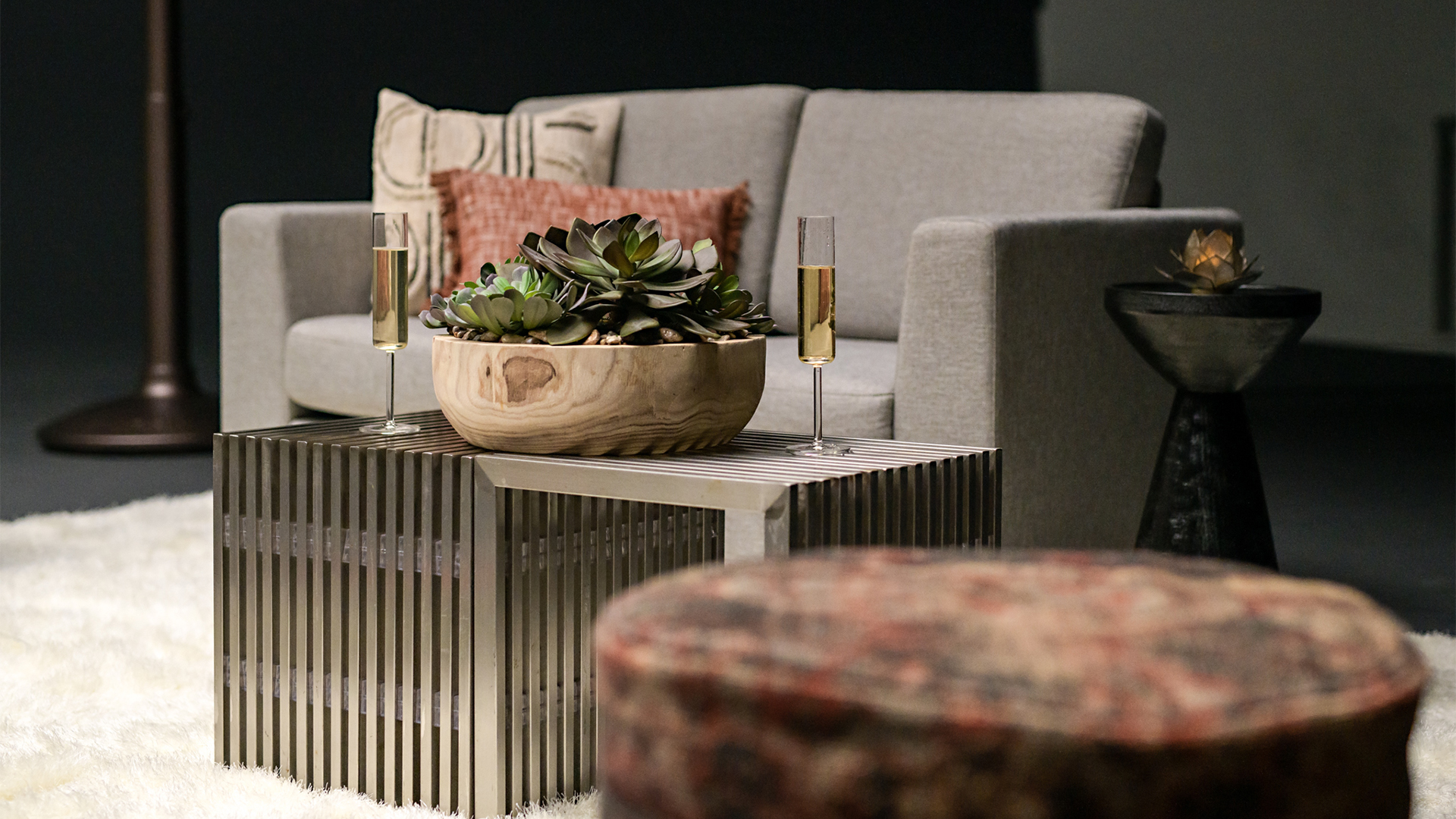 Additionally, live people, text overlay, as well as timelapse cinematography, were used to craft a story with texture that transfers across multiple facets of media. Whether viewed on a silent, looping monitor a tradeshow booth or on a mobile device on social media, the story is equally impactful for show organizers, meeting planners, and event architects.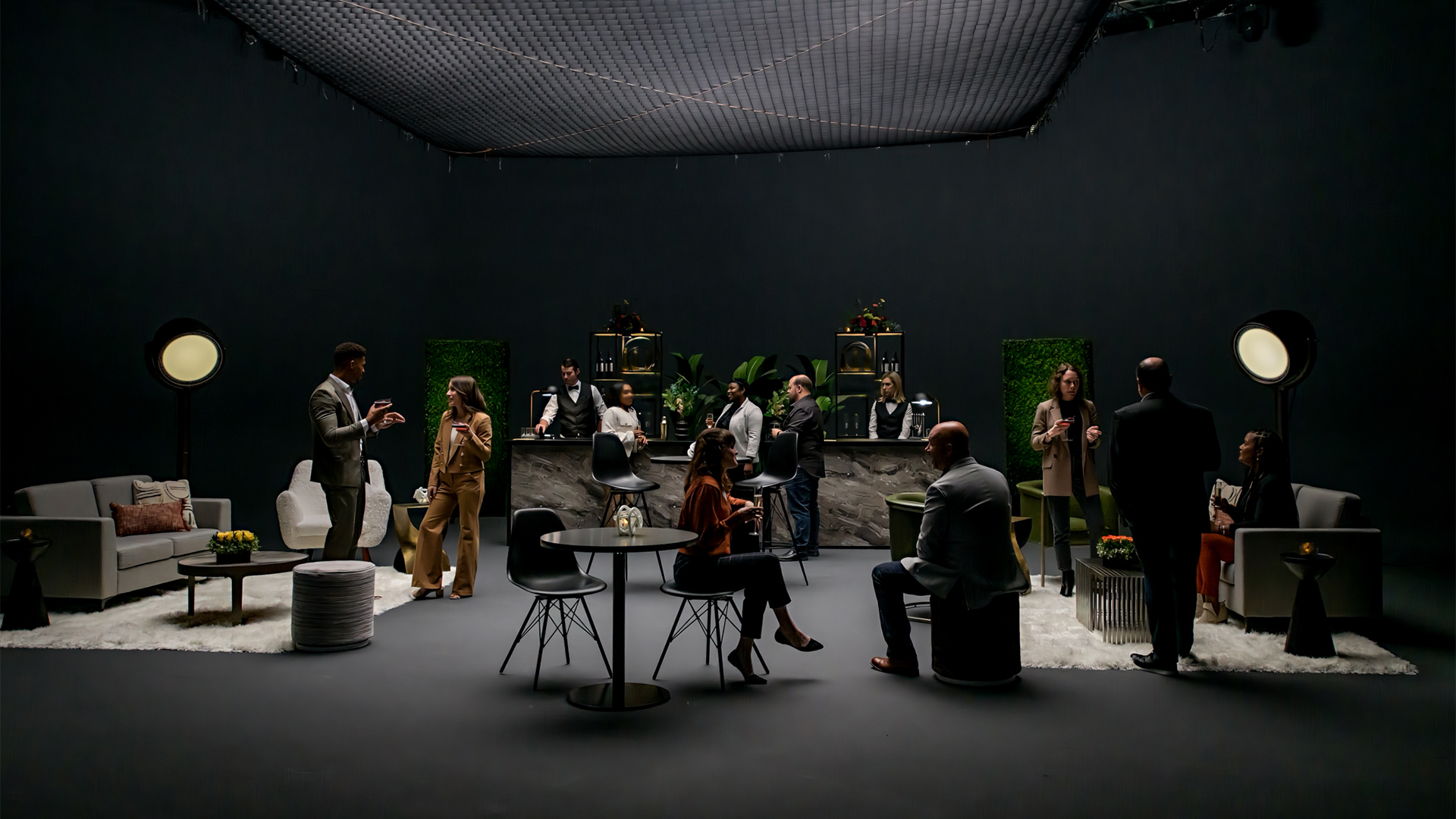 It's more than a singular event, a gala, a sports watch party, a corporate conference, or tradeshow – these events have the potential to be transformative experiences that matter.