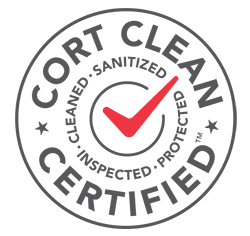 All CORT products have been cleaned, sanitized, inspected and protected.
CORT Events cares about your health and safety. We have enhanced the process and frequency used to clean and disinfect our products before and after each rental.

Before Delivery
All furniture was thoroughly cleaned and sanitized. Special attention was given to high touch points.

All upholstery was thoroughly cleaned, disinfected, and placed in new bags for transport.

All hard surfaces were thoroughly cleaned, disinfected and wrapped for delivery.

All drape and accompanying hardware was thoroughly cleaned, disinfected and placed in new bags for delivery.
After Delivery
Our teams used hand sanitizer, and wore face masks and disposable gloves while handling your product.

Your product was delivered in the same bag it was placed in immediately after sanitization at our facilities.
CORT Teams and Facilities
We are cleaning our facilities frequently with CDC-recommended sanitizing products.

We require our teams to wear masks and disposable gloves at all times while in CORT facilities.

We require daily wellness checks for all individuals who enter CORT facilities.

We are taking extra steps to ensure the welfare of our teams by following CDC-recommended personal health practices, including requiring employees who display symptoms to stay at home and follow the instructions of their healthcare providers.
As you shop, look for products with an Antimicrobial Finish for an extra layer of protection!
---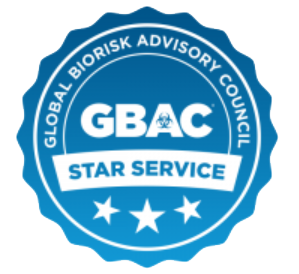 What is GBAC? The Global Biorisk Advisory Council "helps organizations and businesses prepare for, respond to, and recover from biological threats, and biohazard situations and real-time crises. We offer education, training, certification, response management, and crisis consulting for situations where environments require a much higher level of cleaning, disinfection, and restoration.
All CORT Events locations have at least one individual that is proudly GBAC certified to ensure we are consistently following the latest guidelines and processes. It also allows us to help you make your next event a truly safe environment for your guests. Learn more here.
About Us
Find out who we are and see how we can help you with your next event, meeting or trade show.
Learn More
Get Some Answers
Have a question about our products, trade shows or other CORT services?
View our FAQ