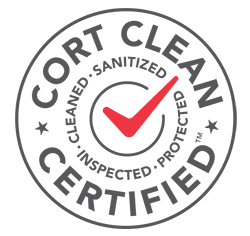 All CORT products have been cleaned, sanitized, inspected and protected.
CORT Events care about your health and safety. We have enhanced the process and frequency used to clean and disinfect our products before and after each rental.

Before We Arrived
All furniture was cleaned and sanitized. Special attention was given to high touch points.
All upholstery was thoroughly cleaned, disinfected, and placed in new bags for transport.
All hard surfaces were cleaned, disinfected and wrapped for delivery.
All drape was cleaned, disinfected and placed in new bags for delivery.
After We Arrived
Our teams used hand sanitizer, face masks and wore disposable gloves while handling your product.
Your product was delivered in the bag that it was placed in after sanitizing at our facilities
CORT Teams and Facilities
We are cleaning our facilities frequently with CDC recommended sanitizing products
We require our teams to wear masks and disposable gloves while in all CORT facilities
We are taking steps to ensure the welfare of our teams by following CDC recommended personal health practices, which include instructing employees who feel ill to stay home and consult their healthcare providers